Originally published at Cheryl's Mewsings. Please leave any comments there.
This year's Lambda Literary Awards were announced last night. They are for queer writing in all of its forms. One of the categories is for science fiction, fantasy & horror. As Locus reports, the winner for 2015 is my dear friend Chaz Brenchley for his book, Bitter Waters. Congratulations also to Steve Berman of Lethe Press who published the book.
You can find the full list of winners here. There are two trans categories. The fiction category was won by Casey Plett's A Safe Girl To Love from the very fabulous Topside Press. The non-fiction category was won by Thomas Page McBee's Man Alive: A True Story of Violence, Forgiveness and Becoming a Man from City Lights/Sister Spit. It must be pretty spectacular as it beat out Janet Mock's Redefining Realness.
Originally published at Cheryl's Mewsings. Please leave any comments there.

Nice wheels, love!
Well, thank goodness that's over.
I'm not a big fan of celebrity culture. I'm not entirely sure what a Kardashian is. But, as a trans woman, I have found the Jenner saga all over my social media feeds for months. Now at last we seem to have some clarity.
Caitlyn Jenner arrived in the world through a cover and big photo spread in Vanity Fair. She looks great, and very content. She can, we hope, look forward to being happy ever after, just like the best fairy tale princesses. I'm really pleased for her.
What her sudden transformation means for the rest of the trans community is less certain. On the one hand, all publicity is good publicity. Jenner is keeping trans issues in the news, and forcing people to confront their thoughts, prejudices and misconceptions about us. If Jenner's million-plus followers on Twitter translates into more public sympathy for trans people, I'm all for it.
It is important to remember, however, that Jenner's story is by no means typical. Little more than a month has passed since the confessional ABC interview with Diane Sawyer, in which Jenner was still presenting as male. Now we see her in glamour shots looking a damn sight better than the average 65-year-old woman. This sort of transformation does not, and cannot, happen for everyone.
Jenner's transition appears to have been very carefully stage-managed, probably with the help of talented PR people. She will also have had access to the best surgery money can buy, and to expert stylists. There may even have been a bit of photoshop involved. I mean, what glamour shoot in magazines isn't touched up these days?
In reality, gender transition is a long and drawn out process. Even Lana Wachowski, with all of her money, spent a long time out of the public eye while going through it. From start of hormone therapy to final surgery took me five years. That was actually quite quick, because like Jenner I was able to afford private treatment. Those stuck on NHS waiting lists don't get the same privileged access.
So if you happen to know someone who announces that they will be undergoing gender transition, please don't expect an overnight transformation. It will take a long time, and they'll need a lot of support along the way.
They almost certainly won't come out of it looking like Jenner either. I mean, how many 65-year-old women do you know who look that good? Would I love to be that glamorous? You bet I would! Is it likely to happen without a massive lottery win that I can spend on cosmetic surgery (and an end to my chocolate habit)? Not a hope in hell.
Trans girls who access treatment before puberty stand a very good chance of looking beautiful, and there will always be a few like April Ashley for whom glamour seems effortless. For most of us who have been through the horror of male puberty, however, beauty is seriously hard work.
Nor should it be a requirement. Firstly, no matter what the advertising business tells us, being beautiful is not a pre-requisite of being female. Most of us can and do get on with our lives perfectly well without film star looks. There's no more reason to require a trans woman to be beautiful than any other woman. Nor does everyone care. Being glamorous clearly appeals to Jenner, and it does to me as well, but I know plenty of women — trans and otherwise — who are perfectly happy with short hair, no makeup, jeans and a t-shirt.
The point about beauty is that it is an optional extra. Some women are lucky enough to get it for free, some are able to buy it, and some don't particularly want it. Lack of it, however, does not make you any less of a woman. So while I would like to be more beautiful, lack of beauty is a minor issue compared to where I have come from. Being able to live my life as a woman is such an enormous step forward from where I was before that it seems a bit churlish to ask for anything more. Of course I'd take it if I had the opportunity, but I already have something far more valuable, the ability to be me. I suspect that if you asked Caitlyn Jenner she'd say that was more important to her as well.
Originally published at Cheryl's Mewsings. Please leave any comments there.
I have a very busy show lined up for Women's Outlook tomorrow.
First up from Noon I will be joined by Kevlin Henney who will, of course, be talking about flash fiction. It is that time of year again. In particular Kevlin and I will be discussing a workshop that he'll be running at the next BristolCon Fringe (which sadly I shall miss because I'll be on my way to Finland for Archipelacon). And of course Kevlin will have a story or two to read.
Next up is Lucienne Boyce. We'll be talking about her new historical novel, Bloodie Bones, the launch of which I reported on last month. The book is an historical crime novel set in Somerset during the time of the 18th Century Enclosures. There will be poaching, and bare knuckle boxing, and talk of agricultural workers' rights.
Also on the show will be an interview that I recorded with Sarah Savage when she was in Bristol on Friday. We talked about her time on My Transsexual Summer, about the founding of Trans Pride, and about her new children's book, Are You A Boy Or Are You A Girl?, which challenges gender stereotyping.
And finally I will be talking to former BBC executive, Kalpna Woolf about her latest project, 91 Ways. This is part of the Bristol Green Capital initiative. It is based around the idea that there are 91 different languages spoken in Bristol. That's one heck of a lot of different cuisines. The project aims to:
Inspire people to lead more sustainable lives using the power of food to encourage dialogue, shared learning, education and action
Help people make better decisions about their food and well-being to improve the health and sustainability of our city
Create a modern social history of Bristol through food and be instrumental in encouraging a sustainable way of living across the whole city
Help us all to have a better understanding of how Bristol's communities live and their behaviour, food journeys and how they engage with our city
Yes, of course this is an excuse for me to talk about food. But it is a great project too.
As usual you can stream the show live from the Ujima website, and it will be available via the Listen Again system for several weeks after broadcast.
Originally published at Cheryl's Mewsings. Please leave any comments there.
I have a new feminism column up at Bristol 24/7. This one is a bit theoretical, but basically it is all about one of the was in which white media feminists try to police the behavior of other women. So it would be "Up Yours, New Statesman" again. You can find the column here. Do please at least click through. As far as I know, I'm the only trans person in the country who gets to write a regular column on feminism. That sort of thing needs to be encouraged.
Talking of ever trans person's least favorite newspaper, Amanda & Neil have an interesting blog post up about the process of editing their special edition. The whole thing appears to have been a little fraught, but at least they did print Roz's poem, and they let Roz perform it live at the Hackney Empire gig last Thursday. I suspect that one or two people chocked on their lobster & Bolly over that.
Originally published at Cheryl's Mewsings. Please leave any comments there.
Advance warning to Brighton people. I will be amongst you next week. There is a conference called Trans Studies Now taking place at the University of Sussex on Friday, June 12th. There will be keynote speeches from important people like Roz Kaveney and Lewis Hancox. And there will be me talking about science fiction and how gender might evolve in the future.
If you want to attend, details are here. And if you can't go you should be able to follow along on Twitter.
As it is a formal academic conference, my paper will go up on Academia.edu after the event.
And because it starts early in the morning I'll be in Brighton on the Thursday night. If anyone wants to catch up for dinner and/or a drink in the Marlborough, please let me know.
Originally published at Cheryl's Mewsings. Please leave any comments there.
I have to confess that I am not in the least bit objective when it comes to Amanda Palmer. I have, after all, known her husband for over 30 years, and I have a great deal of faith in his judgement. I was a little nervous when he first told me about her, but having seen her perform live four times now I have grown to love this fierce, fearless and amazingly talented woman.
If you have been to one of Amanda's gigs before, you'll have a good idea of what to expect. There were piano songs and ukelele songs. But, as she often does, she opened up with "Wind that Blows the Barley". St. George's is a former church. It is known for its awesome acoustics. Singing unaccompanied shows it off at its best.
Of course there is a huge picture of Jesus at the back of the stage. Apparently when Richard Dawkins did a talk there he insisted on having it covered up. Maybe he was afraid it was watching him. Amanda had no such worries. She just played "Jump You Fucker, Jump!" from Peter Cook & Dudley Moore's Derek & Clive album. That's the one that sounds a bit like a religious chant and ends, "Aaaaaa-souls" (or something that sounds very like that).
God did not strike any of us dead.
Amanda then launched into "Astronaut" and "Ampersand", which is enough to get any audience going, and built the show from there. This being Amanda, while she had some idea of what she was going to play, there was always going to be audience interaction. She took requests, and played most of them, even though these days her fans know what is coming and delight in asking for obscure songs from her catalog.
She played "Vegemite", which made me very happy because I love that song. Sorry, Neil.
Of course the main distinguishing fact about this gig was that Amanda is five months pregnant, seriously in need of naps, and suffering from acid reflux. Most people would take that as an excuse for a little time off work. Amanda is not most people. She just adapted the show to take account of it. There was no crowd surfing. There was, however, a song about pregnancy.
The support crew for this tour includes Whitney Moses, who in addition to organizing the tour is helping Amanda out with all of the pregnancy stuff. Whit is also a really good singer. She and Amanda did a couple of duets, one of which was a song called "Pregnant Women Are Smug". That's by an American comedy duo known as Garfunkel and Oates, which is the name of the band (from Art Garfunkel and John Oates, whom they describe as "two famous rock-and-roll second bananas"). These ladies are hilarious, and just as potty-mouthed as Amanda. Here's their version of that song.
If you liked that, go here and listen to some more of their work. I even laughed at the one in which they make fun of people who like sport. I especially laughed at "The Loophole", but then I'm a sad history geek who understands how the meaning of the term "sodomy" has changed down the ages.
Thank you, Amanda. It was a great gig. You've made my heavy metal obsessed pal, Sarah, into an Amanda Palmer fan, and you've made me into a Garfunkel and Oates fan.
Originally published at Cheryl's Mewsings. Please leave any comments there.
Represent!
And dear Goddess I miss San Francisco…
Originally published at Cheryl's Mewsings. Please leave any comments there.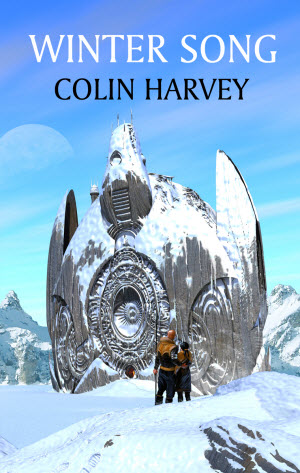 It has taken a little longer than I wanted, but I finally have the first of Colin Harvey's novels available again as an ebook. Winter Song is now available from the usual ebook stores in a fine new Wizard's Tower edition. It also boasts a new introduction by Gareth L. Powell.
For a list of purchase options, click here.
Work on Damage Time is progressing well and I hope to have it available very soon.
And then we start work on the hardcover editions.


Originally published at Cheryl's Mewsings. Please leave any comments there.
That's a recording of Lev Grossman's lecture as presented in Oxford earlier this month. It is a little over half an hour long, so if you don't have time to watch it all you can read my thoughts on it below. It is worth the time, though. It watched it on my big HD TV and it looks great. Thanks to the folks at Pembroke College for making it available. However, it doesn't include the Q&A session, and some of what I have to say below refers to points raised during that, so you may want to read this anyway.
Grossman's topic was how fantasy has changed since the time of Tolkien and Lewis. He noted that the Inklings saw their work as discovery rather than creation. The Fantastic was out there, waiting to for someone to grasp it and present it to a modern audience. He characterized them as palaeontologists patiently wiping the dirt off newly discovered story fragments and trying to guess what great legend they were part of.
In addition the work of the Inklings was forged in the fierce furnace of the early 20th Century, a time of rapid and very obvious social and technological change.
In contrast, Grossman grew up in a world in which fantasy was everywhere. Kids played Dungeons & Dragons, and bookstores were full of many-volume "trilogies". Fantasy had become fat, and had apparently sworn an oath that neither it nor its devotees would ever be hungry again.
Grossman characterized Inkling fantasy as a longing for longing. It worked because what was longed for was perpetually just out of reach. With time, our world has discovered that this is the perfect Capitalist product. No matter how much you buy, you can never get enough. Modern fantasy, however, has moved far beyond longing. Once you have gorged yourself on something to the point of nausea, what can you long for? Fantasy has become a requiem for longing.
I do wish that M. John Harrison had been in the audience. I would give a lot to sit and listen while he and Grossman discussed Viriconium, and more particularly The Course of the Heart, which is the perfect book about longing for longing (and therefore my favorite fantasy novel).
Grossman went on to talk about his vision for modern fantasy. He bemoaned the fact that it is no longer wild. Thanks to D&D, it now has rules, based on physics. You can teach it in schools. In his view, the duty of modern fantasy is to bring about Ragnarok. The camera, he said, is no longer following Lucy, it is following Susan, and she's angry.
In response to a question he said that he wanted to do for fantasy what Watchmen had done for superheroes. He was writing second order fantasy; fantasy about fantasy.
So now I understand The Magicians so much better.
But do I agree with him? Do I think that the magic has really gone away?
Actually, no.
Let's come back to those palaeontologists. When I was a kid, dinosaurs were still a bit magical. They were still cold-blooded for a start, so people didn't really understand them very well. Nowadays they are in every museum. David Attenborough recreates them in CGI. We don't actually have Jurassic Park, but we pretend that we do, and the dinos in it look real enough.
Fiction, too, can fossilize. Gary K. Wolfe talks very intelligently about the process in his book, Evaporating Genres. Fat fantasy is absolutely a fossilized version of what Tolkien discovered. It is a dead skeleton of real fantasy, put on display with scientific explanations of how it works. It is not magical.
But that doesn't mean that fantasy itself has been destroyed, any more than dinosaurs have been destroyed by being fossilized. Until such time as Jurassic Park becomes real, true dinosaurs will always have existed, and will forever be just beyond our reach. They will still be magical.
There are still writers out there who want to give us a glimpse of real magic. They are few and far between, because it is so much easier just to stick up a few fossilized fantasy skeletons and claim that they are alive. But, if you seek out these writers, you can still be enchanted by their words.
One writer I think does it rather well is Liz Hand. Now I happened to sit next to her at dinner after the lecture, and she said to me that she understands where Grossman is coming from. Given that she's working down the fantasy mines, and finding them running dry, I need to respect that. But at the same time if you listen to her on Coode Street talking about Wylding Hall you'll hear her talking about techniques inherited from Arthur Machen that fantasy writers use to produce the sort of effect I'm talking about.
The question is not whether you can still do that, it is whether what you write in that way has any meaning in the 21st Century.
Does fat fantasy need to be destroyed? Quite possibly it does. At one point Grossman described our world as a broken world that looks whole. He was contrasting it with the world post-WWI, which was very obviously broken. We live in a world that is run on story. Politics, the media, marketing, are all about narrative; about pulling the wool over our eyes. We live to be told stories, almost all of which are lies. The question is, what should we do about it?
Grossman, I think, wants to break the stories and throw the pieces in our faces. Harrison, in contrast, wants to teach us that living for stories is pointless, and we should turn away from them. I think Mike has the better argument, but I'd love to see the point debated.
I have one final and unconnected point. Juliet McKenna asked Grossman what he thought of Grimdark. He made the very reasonable point that there should be room in fantasy for all sorts of writing, but he found Grimdark a rather nihilistic art form. It was, he said, an exercise in finding out how much meaning you can leach from the world and still have a story. He once tried to write a Grimdark novel, and had to give up because he couldn't make it work. I think that means that somewhere, far off, and out of the corner of his eye, he can still see Elfland.
Originally published at Cheryl's Mewsings. Please leave any comments there.



A new book from Elizabeth Hand? Am I there? You bet!
The book isn't actually available as yet, but Liz was talking about it on Coode Street at the weekend so I feel justified in publishing a review.
I have been a little bit cheeky, but hopefully you will enjoy my review.